Thank you!
Your custom deployment quote should be in your inbox shortly, and someone from our team will reach out in a few.
Questions now? Contact us below.
See how it's done
40,000 iPads for 73 schools
Take it from Polk County Public Schools, the 7th largest district in Florida. They needed 40,000 iPads provisioned and ready in an ambitious timeline. The Black Glove team received, unboxed, cased, tagged, and shipped devices back in a matter of weeks.
Read the story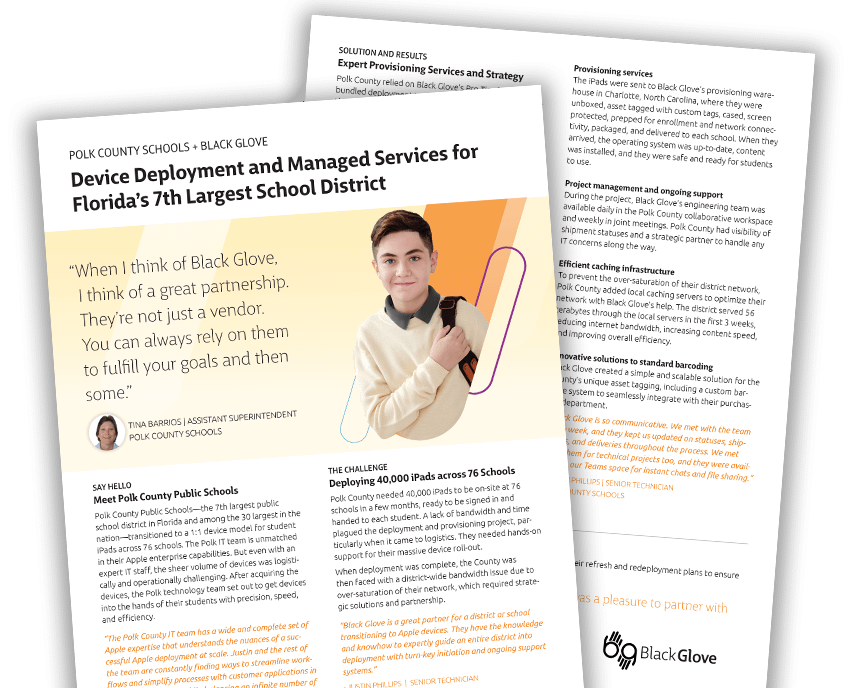 Frequently Asked Questions
We tried guessing your next question below, but if you have something else on your mind, let us know. 
What happens next?
In a few minutes, you'll receive a custom quote for Black Glove's deployment services in your inbox. And a few minutes after that, one of our engineers will reach out to you to discuss the project.
Once the dotted lines are signed, we'll get your devices to our warehouse facility and the provisioning will begin. And a few weeks later, your devices will be shipped to your location(s) ready for students, teachers, and employees to use.
How do I learn about your full managed services?
Beyond just deployment, we offer monthly or annual subscriptions for live support, network and device security, device management, and more. It's a small, additional fee that ensures your devices are secure, always updated, and sustain their value over time.
What makes you different?
It's simple: Complete Apple IT expertise at an incredible price. Our pricing is affordable and transparent, and our service is unmatched compared to other service providers who offer fewer service capabilities, longer timelines, and higher price points.
Why are you called "Black Glove"?
"White glove" service might be great for some things, but we believe it's incomplete experience for IT. Black Glove services continuously work behind-the-scenes, architecting and constantly supporting your perfect IT experience.
Where will the provisioning happen?
Our main provisioning facility is located in Charlotte, North Carolina. But sometimes, we do what we call an, "Away Game," where we'll send our talented provisioning technicians on-site where they're needed.
How much will it cost?
Generally, our deployment and full IT services will cost less than one new IT hire. You read that right. You get a team of at least 4 Apple experts for less than the price of 1.